FLIPPED HOMES CAN BE A GREAT PURCHASE,  BUT SOMETIMES……
Before the Great Recession of 2008, housing prices climbed dramatically, and homes sold faster than buyers could gush, "I love that spa bathroom." Contractors and even handy DIYers got in on the uptick by buying fixer-uppers and improving them in the quickest ways possible, selling them, and reaping the profits. Enter the real estate phenomenon of flipping.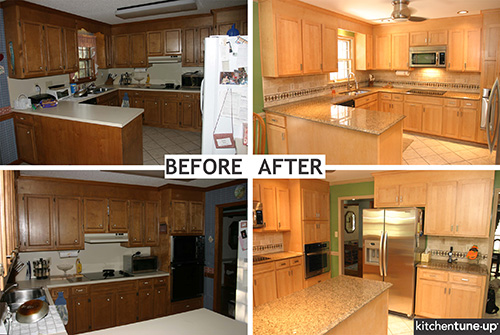 The trend waned a bit as the housing market hit the skids, but then returned with some significant differences. Today's flippers are more often professional investors with access to cash as banks tightened mortgage loan guidelines and available work crews.
But now, low inventory and many buyers' eagerness for new construction and remodeled homes has caused some buyers not to do enough checking. And some buyers don't insist on an inspection if sellers won't permit it as a contingency.
Our job, as Realtors, is to guide buyers through this rough terrain. The first thing a good agent should do when a client is interested in a remodel is to look at the public record and see when the property last changed hands. If it's less than a year ago, the property may require a more thorough examination. While not every flip represents a potential landmine, asking the right questions about who completed the work may shed some light on the quality or craftmanship…. most problems arise with work done by DIY owner-flippers, who lack the skills of licensed contractors.
Here are more ways a good agent can be an advocate for buyers who plan to purchase a house that's being flipped. Many of the caveats reflect the same type of thoroughness that should be undertaken with any sale.
1. See it yourself
Don't buy at auction or without seeing a house in person with your agent. Buyers should inspect the structure so they see firsthand if visible problems exist that may be red flags for deeper trouble. This is the first step before they call in experts.
2. Learn the history of a home
A good agent would ask officials in the community and real estate salespeople if they know how long a home may have been vacant. The number of seasons a property goes through while being empty of occupants can help predict whether its plumbing and other mechanical systems may have been neglected or damaged.
One of the most important reasons to trace a home's lineage is that if no one has lived in the remodeled house yet, it's hard to know how well the systems work. There may never have been a heavy rain to know if the home's drainage system will stand up, or if termites are chewing away at support joists and not visible. It's even a good idea to ask for names of others who've bought from the same flipper to learn how well their houses have fared over time.
A good agent would also direct a buyer to where they can request to see the permits that the flipper pulled to perform work, especially important in cases where the floor plan was changed or a load-bearing wall was removed. Or, if mold was a problem, a buyer can ask if the work was done by someone licensed to handle mold remediation. They can also check the area's Better Business Bureau to see if complaints or lawsuits have been brought against the seller by a prior buyer or real estate commission.
3. Understand the flipping process
Because a flipper's goal is to make a profit in a relatively short period, many changes are cosmetic, such as refinishing hardwood floors and painting kitchen cabinets. Flippers often replace countertops, appliances, and fixtures in what tend to be buyers' favorite rooms: the kitchen and bathrooms. They may forgo fixing the more expensive, time-consuming, and less visible problems. For example, a rotted subfloor may be deemed not worth fixing if it's underneath gleaming boards, and dated plumbing may be left as long as faucets work and water pressure seems okay. Flippers don't want to kill the deal, but they typically won't go above and beyond. They also know that most buyers reach a point where they want to be done looking and are happy to focus just on what's new and pretty.
4. Hire a certified home inspector
Even if the flipper says the home was preinspected, a good agent would advise buyers to bring in their own expert to avoid surprises later. But even home inspectors can miss signs of problems beyond the surface. Perhaps water wasn't run long enough during the inspection to find out that pipes hidden behind newly tiled walls are corroded. A good inspector will follow up on possible trouble spots — say, a wall that sounds hollow and may be lacking solid backer board and studs — with requests for more information. A good inspector might ask: 'What's going on here?' We won't rip off the wall, but will request receipts to show work was done properly."
A good agent has cultivated a list of inspectors that they trust. This list should be given to buyers so they can research and choose one they're comfortable with.
5. Bring in additional specialists
Certain systems warrant calling in a skilled expert. A good agent might advise having a plumbing inspection even if all seems perfect. With today's technology, a licensed plumber can do a video camera inspection of the main sewer line to see if there are mechanical defects in the pipe, which most home inspectors don't see. There might be a small leak in the line from roots growing, but it could take several seasons for them to be large enough to cause problems, and that could be long after the purchase. By then, [repairs would] also be more expensive. An average plumbing inspection ranges from $150 to $400.
In the case of electrical work, a new junction box may suggest all's well, but that doesn't mean wiring was brought up to code. Houses built in the late 1960s and early '70s often were wired with aluminum, which was outlawed, and copper was required. But some might not know because they're behind walls. A licensed electrician will pull off the panel cover and look.
Some buyers may be content waiting to hire an expert only if the general home inspector picks up on problems such as foundation cracks that could reflect structural defects. At that point, a structural engineer can determine the seriousness of the problem. And many home owners find that it helps to bring in a structural engineer in cases where a house is very old since more problems may lurk beneath floors, below floors, between walls, and above ceilings.
6. Avoid legal glitches
It's important to know that there are no legal problems with the transfer of ownership when the flipper purchased the property. All kinds of issues may arise when buying a property that has been flipped. For example, if sellers acquired a property through a short sale, they need to obtain detailed information on the short sale to ensure that both transactions comply with state regulations and the original lender's short-sale requirements. There may also be a requirement that the flipper owned the property for a minimum amount of time before selling, and proofs of payment of liens must be verified. A good agent will help you decipher the title report.
With all this information in hand, buyers can decide whether a flip is still worth buying, particularly if the seller won't deduct estimated repair costs or fix problems. But if a flip passes muster, it may be just as desirable as any other purchase: What difference does it make if a flipper made money in a short time if the buyer finds a wonderful home?